Treatment Modalities
Biologics
Immunotherapy
Gene therapy
Radiotherapy
Small Molecules
Surgery
Facilities/Translational Research
First-in-Man studies
Phase 1 population: Solid tumours and haematological malignancy in adults
Mechanisms studied: TKI inhibitors; Hsp90 inhibitors; Immunotherapy
Centre specific translational research interest
PD/PK and biomarkers, imaging, gene therapy, immunotherapy, pharmacogenomics and pharmacogenetics in vitro collerates of response.
Technology/equipment within the centre:
CT/PET
Preclinical in vivo imaging services (Xenogen IVIS bioluminescence; SPECT/CT; optical imaging; PET pending)
Molecular Pathology Services including Ventana Discovery automated IHC/ISH to GCLP
Affymetrix expression profiling and SNP genotyping
Other Facilities (e.g. Wellcome Trust CRF)
Early phase clinical trials unit
Inpatient cancer services comprise 80 beds, with 35 beds for haematological oncology including 14 isolation beds for bone marrow transplantation staffed by 46 qualified nurses and 8 healthcare support workers (HCSW)
45 beds for medical oncology and clinics including 16 single rooms (three of which are radiation-protected), staffed by 28 nurses and 9 HCSW; staffed by 26 nurses and 9.2 HCSW.
A 15 bedded hostel on site has recently opened to allow patients to be treated in an outpatient setting.
Outpatient treatment is delivered in two dedicated day wards open 08:00 to 20:00
Cytotoxic reconstitution pharmacy suite with three Chemical Dispensing Cabinets; the facility is licensed by the MHRA.
Cancer Research UK Clinical Centre in Charterhouse Square
Nuclear Medicine department
Clinical Research Centre & Gene Therapy Unit
The Stem Cell Laboratory (HTA accredited)
Tissue resource centre
Facs analysis
Confocal Microscope
Tissue Microarray
Other equipment/facilities not on site
Cancer Research UK, Lincoln's Inn Fields, London WC2A 3PX - available through ongoing collaborations with investigators at Cancer Research UK London Research Institute.
ECMC funding provides infrastructure support for early phase and translational research.  From the ECMC Barts portfolio, the following trials have been carried out.
Trial activity between 2012-2015: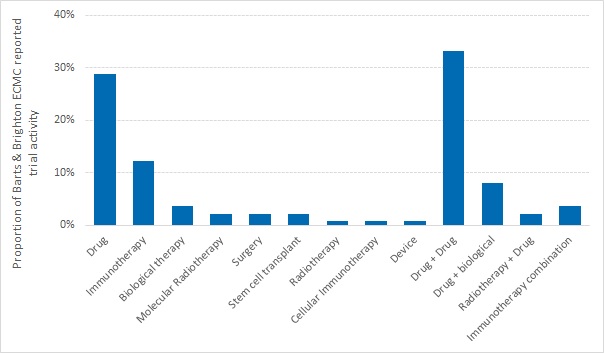 Trial by disease type between 2012-2015: