Treatment Modalities
Gene therapy
Immunotherapy
Biologics
Radiotherapy
Facilities/Translational Research
The Centre for Cancer Research and Cell Biology (CCRCB) opened at Queens University Belfast in 2007. It is adjacent to the Northern Ireland Cancer Centre (NICC) at Belfast City Hospital (BCH) which opened in 2006 and houses the Northern Ireland Cancer Trials Centre (NICTC). This is the first Comprehensive Cancer Centre on the island of Ireland and offers a major opportunity for high quality care and clinical research opportunities for cancer patients.
The close proximity and multidisciplinary integration between the Clinical Cancer Centre and CCRCB will drive translational research activity and deliver effective bench-to-bedside, and bedside-to-bench translational oncology. This will further promote the translation of scientific discoveries that result from our molecular, cell and biology programmes into useful diagnostic and therapeutic tools.
Clinical facilities for research at the Northern Ireland Cancer Centre
The Northern Ireland Cancer Trials Centre provides:
Multi-disciplinary expertise for all common cancers within the local catchment population.
Regional multi-disciplinary expertise in all cancers except for some very rare cancers.
Specialist diagnostic facilities, including ready access to a full range of clinical imaging services.
Specialist therapeutic services, including radiotherapy and complex chemotherapy, delivered in an acute hospital setting where there is the full backing of acute and diagnostic services.
A regional focus for research, audit, teaching and training.
The content of the Centre is summarised below.
Nuclear Medicine
Two dual-headed gamma cameras 
Fused CT/Positron Emission Tomography (PET) Scanner
Ablation therapy isolation facilities
Clinical Imaging
General X-ray Room, Digital Chest X-ray Room, Two Ultrasound Rooms
Interventional / Screening Suite. Two MRI Scanners Three CT Scanners
Picture Archive and Communications System PACS
Radiotherapy
Three simulators (including two 4DCT SIM)
Ten Linear Accelerators with full Image Guidance (IGRT), intensity modulated radiotherapy (IMRT) and stereotactic radiotherapy (SABR) capabilities. 
High Dose Rate Brachytherapy Theatre Suite for gynaecological and prostate cancers. 
Medical Physics
Engineering Rooms. Dosimetry Laboratories, Dedicated Treatment Planning Suite
Ward Areas
84 beds including a 12 bedded area available for clinical trials investigations
Oncology and Haematology Day Hospital
16 Consulting Rooms: 4 Nurse Assessment / Clinical Rooms
40 space Day Hospital. 10 /chair clinical trials area
Apheresis Suite
Endoscopy and Bronchoscopy Suite adjacent to the Oncology Day Hospital
Inpatient Haematology Unit
A dedicated 28-bedded unit (with 8 Bone Marrow Transplant Rooms)
A Haematology Laboratory adjacent to Day Hospital
Pharmacy
Reconstitution of chemotherapy and gene therapy facilities
Other General Areas
Multi-disciplinary teaching and conference area comprising two 40 person Seminar Rooms, one 100 person seminar room, an Oncology Library and assortment of general offices.
Northern Ireland Cancer Trials Centre
Dedicated team of GCP trained clinical research nurses, clinical research radiographers, data managers and administrative staff.
Conduct full range of clinical trials from Phase I cancer clinical trials (including first in human studies) through Phase II, Phase III and Phase IV expanded access trials, epidemiology and genomic studies.
Research Facilities at CCRCB
Within the CCRCB the research infrastructure is supported by expertise in a range of core technologies including:
Genomics
Microarray facility
DNA sequencing facility
Real-time PCR
Bioinformatics Suite
Translational Proteomics and Chemical Biology
Proteomics facility
High throughput combinatorial chemistry analysis
FTIR, Raman with confocal microscope attachment, spectrofluorimeter
300 MHz NMR spectrometer
Gas chromatography - mass spectrometry (GC-MS)
Molecular pathology
Biobanking
Automated tissue microarray platform
ECMC funding provides infrastructure support for early phase and translational research.  From the ECMC Belfast portfolio, the following trials have been carried out.
Trial activity between 2012-2015: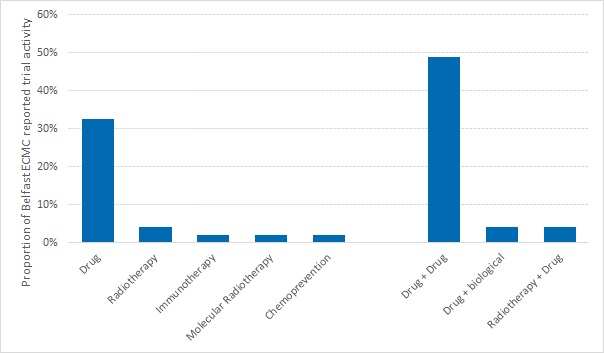 Trial by disease type between 2012-2015: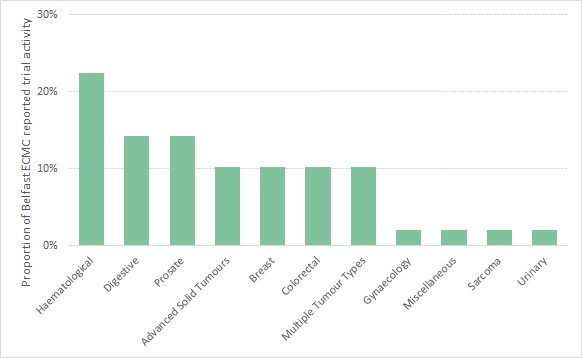 The Belfast ECMC has developed a product pipeline of biomarkers and novel drugs from basic research through to clinical delivery, involving strategic collaborations with industrial partners