London - Institute of Cancer Research
Treatment Modalities
Immunotherapy
Biologics
Small Molecules
Facilities/Translational Research
Phase 1 Capability within the Royal Marden Hospital
With a unique potential for treating large numbers of patients with diverse tumour types and extensive experience in delivering phase I oncology trials, the Drug Development Unit within ICR & RMH is ideally placed to evaluate a broad spectrum of novel anti-cancer agents. It comprises of a large and well-defined multi-professional research.
The Phase 1 Clinical Facility, The Oak Foundation Drug Development Unit, housed within The Royal Marsden, is a purpose-designed Unit to run phase 1 clinical trials.  The Unit possesses capabilities to conduct a large number of investigator initiated and/or externally sponsored first in man oncology studies at any given time. It provides ten inpatient beds, five treatment chairs and two outpatient suites. 
The Unit delivers services to patients and sponsors compliant with the highest safety and quality standards required for phase I trials. These clinical and laboratory platforms provide a seamless pathway for truly translational drug development programmes focused on improving the treatment and outcome of cancer in adults. ECMC funding provides infrastructure support for early phase and translational research at our Centre.
Investigator Initiated Academic Trials
The Centre at ICR exploits its unique infrastructure and capabilities to sponsor (RM/ICR co-sponsorship), design, execute and report biomarker-driven, early phase trials through our investigator-initiated trials (IIT) team. The team works in collaboration with commercial and academic partners to take forward promising novel therapies or therapy combinations which would otherwise not progress and address unmet medical needs.
IITs are conducted in partnership with the ICR Clinical Trials and Statistics Unit (CTSU), an academic United Kingdom Clinical Research Collaboration registered Clinical Trials Unit (CTU) and one of 15 CTUs recognised by the National Cancer Research Institute as having expertise in the development and delivery of cancer trials.   ICR-CTSU provides trial database development and maintenance together with other trial administration systems (including pharmacovigilance), statistical programming and analysis.
The DDU IIT team is comprised of skilled clinical research professionals to support all trials from initial discussions of trial concept, through to design and development, regulatory submissions, day-to-day management, analysis and reporting, and the timely delivery of high quality ICH-GCP compliant studies.
Clinical Pharmacodynamic Biomarker Team
ICR Clinical PD Biomarker Group develops, validates and implements fit-for-purpose assays for evaluation of Pharmacodynamic Biomarkers in early clinical trials of new oncology agents.
The group specialises in measuring PD Biomarkers, especially phosphoproteins, in less invasive surrogate tissues such as platelets, PBMCs and hair follicles, plus tumour biopsies, using immunoassays including ELISA, MSD®, Luminex® and immunofluorescence, validated to MHRA Good Clinical Practice (GCP) for clinical laboratories standards. Validated assays include AKT/PI3K/MTOR, PKA, HSP90, ROCK, and IGF signalling and histone deacetylase  and MycN biomarkers.
Assays under validation include cell cycle checkpoints, DNA damage response and ALK, Aurora and FLT3 signalling biomarkers. The Group's PD monitoring has proved highly valuable in over 35 early clinical trials. Surrogate patient tissues combined with robust, quantifiable assays have measured the extent and duration of on-target effects, evaluated downstream biological effects, provided proof of drug mechanism of action and influenced trial dosing schedules. 
The group is a crucial member of the multidisciplinary clinical trial team, liaising with project teams to optimise assays prior to trial initiation and engaging in discussions about PD, PK and clinical toxicity/efficacy throughout the trial. 
Drug Metabolism & Pharmacokinetic Team
The Drug Metabolism and Pharmacokinetics Group develops and validates LCMS methods to measure compounds in biological samples in order to support early clinical studies. In first in human clinical trials, the team establishes that the plasma concentration achieved in man is suitable to achieve biomarker modulation or therapeutic efficacy based on preclinical models. 
In addition, the team generates PK/PD  models in order to achieve optimal scheduling/efficacy. In combination studies, the potential for drug-drug interaction is predicted and tested. Finally, the team measures plasma metabolite as pharmacodynamic biomarkers. The team works to GCP compliance such that the data generated by the group can be used for drug registration.
Cancer Biomarker Team
The Cancer Biomarkers Laboratories at the Institute of Cancer Research are focused on circulating biomarkers specifically circulating tumour cells (CTCs), whole blood expression profiling and sequencing of circulating tumour DNA (ctDNA) in plasma.
Our CTC facilities include 3 Janssen CellSearch platforms, including one designed for fixing and scanning circulating tumour cells before and after multi-color fluorescent in situ hybridization (FISH).
Our sequencing Laboratory has both an Illumina MiSeq and an Ion Torrent PGM.  These instruments are used for routine patient tumour tissue and ctDNA sequencing.  Our researches have recently developed a number of assays in sequencing ctDNA (Carreira et al. 2014, Perkins et al. 2012).
The Cancer Biomarkers Laboratories have a Histopathology subgroup which collects patient biopsy material as well as performing routine histopathology techniques such as sectioning of paraffin embedded tissue blocks, H&E staining and a variety of immunohistochemical (IHC) staining looking at the protein expression of genes of interest within the team. We have an in-house pathologist who is involved in scoring IHC staining amongst other things.
Mechanisms studied
HSP90 inhibitors
PARP inhibitors
mTORC inhibitors
AKT inhibitors
ATR inhibitors
Alpha –folate receptors
Technology/equipment available within the centre
MRI/MRS (including diffusion-weighted MRI) 
CT/PET 
automated immunohistochemistry (Ariol™ system) 
NGS sequencing facilities  
ECMC funding provides infrastructure support for early phase and translational research.  From the ECMC Institute of Cancer Research portfolio, the following trials have been carried out.
Trial activity between 2012-2015: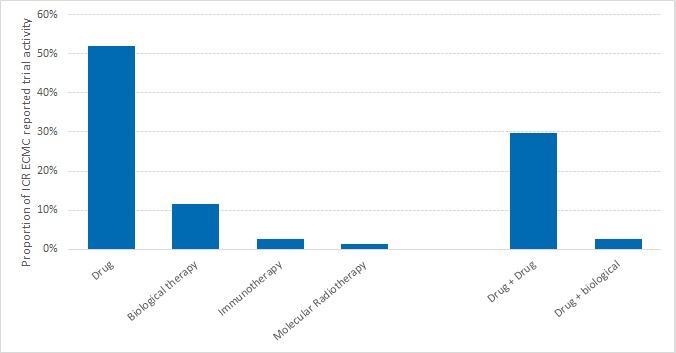 Trial by disease type between 2012-2015: