London - King's Health Partners
Treatment Modalities
Surgery
Biologics
Small Molecules
Facilities/Translational Research
Phase 1 population: including solid tumour and haemato-oncology, first-in-man studies
Mechanisms studied: RTK inhibition (EGFR/HER2; VEGFR)
Centre specific translational research interest
Molecular pathogenesis of Cutaneous Lymphoma and Melanoma; basal-like breast cancer
FLIM and FRET assays in optical proteomics
Epigenetics
Gene therapy
Small molecules in haematological malignancies
Technology/equipment available within the centre
CT/PET
SPECT/CT gamma camera imaging
Radiochemistry, radiopharmacy, imaging facilities (for chemical synthesis, pre-clinical development and GMP production of imaging agents and radionuclide therapy agents)
Tissue Banking Activity
Guys & St Thomas Breast Tissue & Data Bank: HTA licensed bank collected over the last 30 years with 7,200 fixed, paraffin-embedded primary tumours, 2,500 frozen primary tumours, and 900 matched tumour and blood DNA samples. All samples have associated, prospectively acquired pathological and clinical data.
National Leukaemia Cell Bank and Myelodysplastic repository held on the Denmark Hill campus.
Cutaneous lymphoma tissue bank and developing melanoma tissue bank.
ECMC funding provides infrastructure support for early phase and translational research.  From the ECMC KHP portfolio, the following trials have been carried out.
Trial activity between 2012-2015: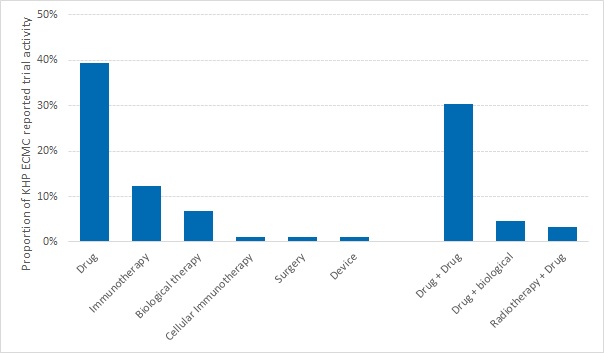 Trial by disease type between 2012-2015: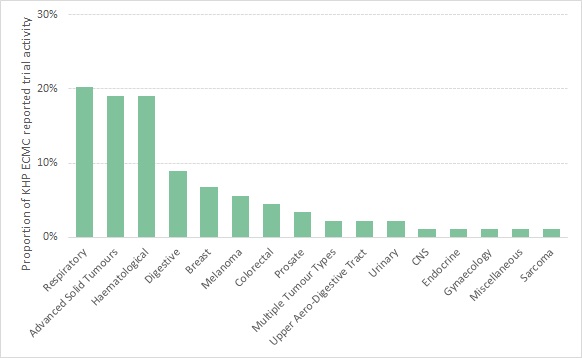 The breast biobank at KHP, which holds tissue samples dating back to the 1970s, comprises more than 15,000 patient samples with a wide variety of disease types