Treatment Modalities
Immunotherapy
Biologics
Gene therapy
Radiotherapy
Small Molecules
Facilities/Translational Research
Phase 1 Capability
First-in-Man studies

Multi-centres Phase 1 studies
Phase 1 population: 

Solid tumours (all types), haematological malignancies, adult.

Phase 1 Mechanisms: 

Chemoprevention, angiogenesis inhibitors, immunotherapy, monoclonal antibodies, bioreductives.
Centre specific translational research interest
Chemoprevention biomarker development; Radio and chemosensitivity testing; cancer cell signalling pathways (lung mesothelioma, breast, colon, pancreas); angiogenesis inhibitors; imaging studies for determination of efficacy; breast cancer prediction of risk.
Technology/equipment within the centre
Tissue and DNA banking (-80°C and liquid nitrogen) and tissue processing facilities 
Analytical chemistry for biomarker development and pharmacokinetic assays are provided by 4 state of the art mass spectrometer 
Genotoxicity assays (inc. Comet assay & immunoassays 
Image analysis system based on a GCP compliant computer system 
Six 1.5 T clinical MRI scanners: one Siemens Avanto and four Siemens Symphony (with Quantum gradients) systems. 
Access to other Facilities and Resources
Clinical trials infrastructure for early phase studies, tissue bank with storage of urological, breast and hepatobilliary malignancies, and extensive laboratories for biomarker development.
In the wider community at the University of Leicester we have access to core facilities for gene targeting and transgenics, confocal microscopy, DNA Sequencing, SNP Genotyping, microarray, Proteomics and Mass Spectrometry, Protein Sequencing and Bioinformatics. We have access to both X- and γ-ray irradiation facilities.
We also have a designated laboratory for the preparation of samples for AMS analysis and access to the AMS facility at Lawrence Livermore National Laboratory, California, US.
Sample collection
Tissue Banking Activity is via the Centre's own tissue bank.
Contact: Jim Strupish
tel: +44 (0) 116 252 3238jws3@le.ac.uk
, email:
ECMC funding provides infrastructure support for early phase and translational research.  From the ECMC Leicester portfolio, the following trials have been carried out.
Trial activity between 2012-2015: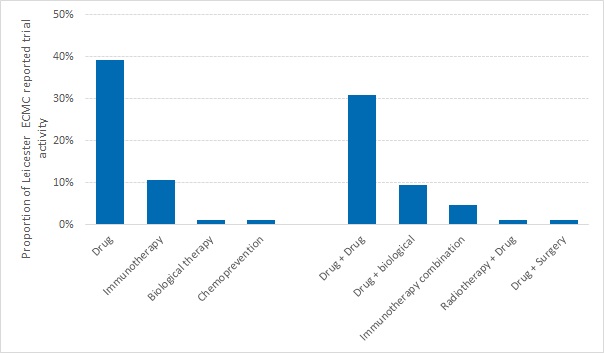 Trial by disease type between 2012-2015: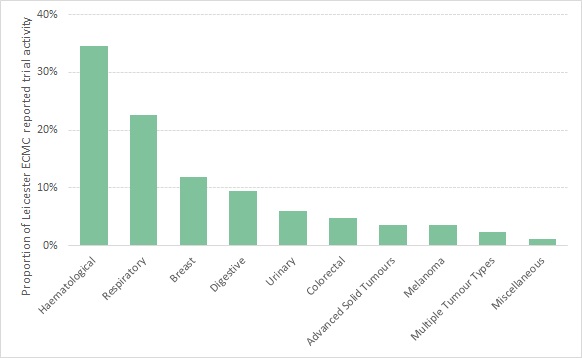 Leicester has expertise in the development and characterisation of drug resistant models to identify molecular biomarkers for treatment stratification