Treatment Modalities
Small Molecules
Immunotherapy
Gene therapy
Radiotherapy
Surgery
Chemoradiotherapy
Radioimmunotherapy
Facilities/Translational Research
Phase I studies: including multicentre studies, and First-Time-In-Human studies.
Phase I population: adult solid tumours and haematology/lymphoma. Wide range of mechanisms studied. Areas of cancer specialism:
Lung
Lymphoma
Breast
Prostate
Colorectal
All solid tumours

Specific areas of translational research interest
Develop informative biomarkers (discovery, optimisation, validation, PK/PD, biological effective dose)
Develop and validate generic indicators of tumour apoptosis and anti-angiogenesis
Develop clinical proteomics/metabolomics
Conduct early phase Clinical Immunology trials and translational PD
Develop, integrate and expand imaging methodologies in preclinical models and early clinical trials
Increase capability to deliver targeted radiotherapies
Develop radiogenomics and image guided radiotherapy
Integrate GCLP compliant Laboratory QA systems into early clinical trials
Technology/equipment available within the centre
Pharmacodynamics and pharmacokinetics to GCLP
PET imaging, MRI imaging
Radiotracer design and manufacture
Genomics and molecular pathology
Proteomics
Multiple tumour specific banks
Integrated Banking facilities are in development within the MCRC
ECMC funding provides infrastructure support for early phase and translational research.  From the ECMC Manchester portfolio, the following trials have been carried out.
Trial activity between 2012-2015: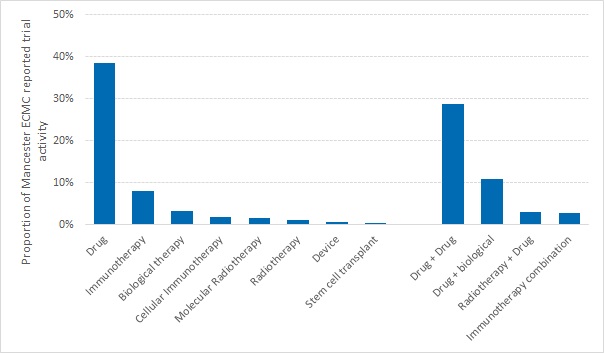 Trial by disease type between 2012-2015: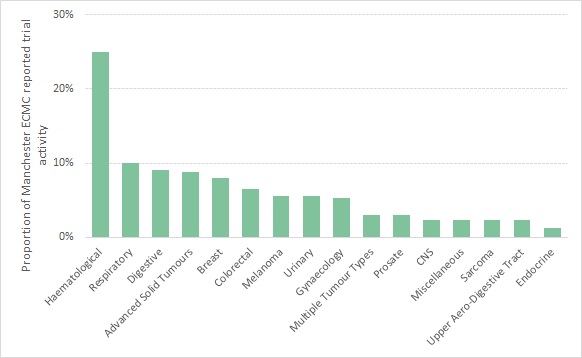 Video showcase

A showcase of the key capabilities that Manchester ECMC has to offer.
The Manchester ECMC has capability in world class biomedical imaging with its PET and MRI facilities located in both the Christie Trust and the on site Wolfson Imaging centre