Treatment Modalities
Radiotherapy
Biologics
Gene therapy
Small Molecules
Surgery
Immunotherapy
Oncolytic viruses
Facilities/Translational Research
The Glasgow team has developed a West of Scotland Comprehensive Cancer centre which encompasses NHS (Beatson West of Scotland Cancer Centre), Glasgow University (Institute of Cancer Sciences including Translational Cancer Research Centre on the Garscube Campus and the Paul O'Gorman Leukaemia Research Laboratories), and Beatson Institute facilities.
This allows us to develop laboratory ideas and transfer these into proof of principle clinical studies which include intelligent use of biomarkers and pharmacodynamics to enhance and expedite the process of early drug development.
Cancer Research UK Clinical Trials Unit
Clinical Research Unit
West of Scotland Cancer Research Network
University of Glasgow Institute of Cancer Sciences (incorporating the Translational Pharmacology laboratory; Translational Cancer Research Centre; Paul O'Gorman Leukaemia Research Laboratories)

CR-UK Beatson Institute

Glasgow Bio-Repository (NHS Greater Glasgow & Clyde)
ECMC funding provides infrastructure support for early phase and translational research.  From the ECMC Glasgow portfolio, the following trials have been carried out.
Trial activity between 2012-2015: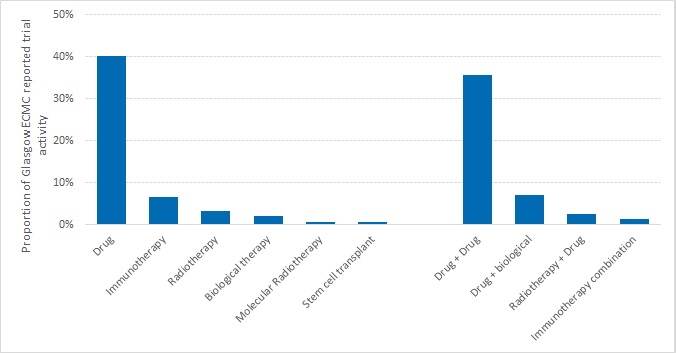 Trial by disease type between 2012-2015: