Treatment Modalities
Surgery
Gene therapy
Immunotherapy
Biologics
Radioimmunotherapy
Medical Devices
Therapeutic vaccines
Small Molecules
Radiotherapy
Chemoradiotherapy
Facilities/Translational Research
Phase 1 Capabilities
Phase 1 population: both solid and haematological tumours, adult
Centre specific translational research interest: Our primary expertise to date has been in the development of early phase immunotherapeutics. We are now actively working on developing strategies to control anti-aptoptotic pathways and are developing novel small molecules for clinical testing.
Multi-centre Phase 1 studies: with a particular interest in immunotherapeutic and anti-apoptotic pathways.
First-in-Man studies
Mechanisms studied:
Taxane
TKI
HDAC inhibitors
Diaphorase inhibitor
Hsp 90 inhibitor
Vinca alkaloid
Broad range of novel immunotherapeutics (vaccines, antibodies, adjuvants)
Technology/equipment available within the centre
Full range of medical imaging: CT, MRI (funding for 3T machine under consideration), CT/PET, Gamma camera
Wellcome Trust Clinical Research Facility: for the accommodation of patients in early phase studies, including apheresis equipment and sample processing facilities.
Radiopharmacy: with full MHRA licence for manufacture of immunoconjugates.
Cellular therapy GMP lab: with full MHRA licence for manufacture and storage.
Sample collection
Tissue Banking Activity: in-house HTA licenced Tissue Bank for fresh-frozen tissue, single-cell suspension, whole blood, PBMC, serum and plasma.

Centre contact responsible for sample collection: Kathleen Potter, Ph.D.  Telephone: 02381 205034
Other equipment/ facilities not available on site:
Mass spectrometry
Proteomic analysis (university site)
NMR for structural protein analyses (university site)
HPLC
ECMC funding provides infrastructure support for early phase and translational research.  From the ECMC Southampton portfolio, the following trials have been carried out.
Trial activity between 2012-2015: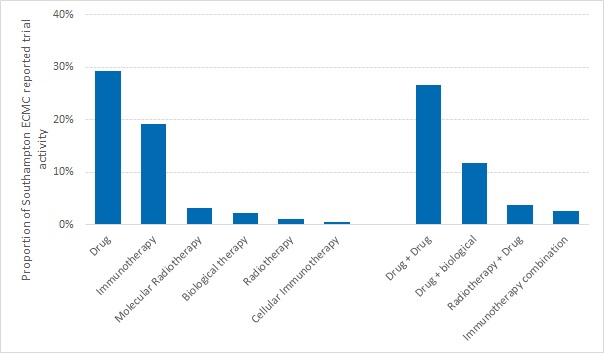 Trial by disease type between 2012-2015: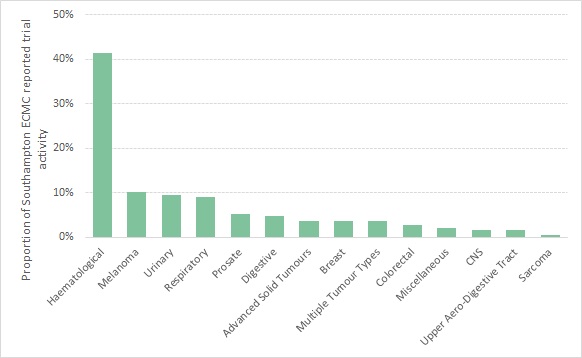 Southampton ECMC has in-house expertise in the design and conduct of early phase clinical trials with immunomodulatory compounds