Treatment Modalities
Small Molecules
Biologics
Immunotherapy
Radiotherapy
Chemoradiotherapy
Surgery
Medical Devices
Facilities/Translational Research
Phase 1 Capability
Phase 1 population: ∼2 million over geographically large region
First-in-Man studies
Multi-centre Phase 1 studies
Mechanisms studied: Taxanes, TKI inhibitors, CDK inhibitors, aurora kinase inhibitors, TRAIL receptor antibodies, novel cytotoxic agents, novel packaging of existing agents
Centre specific translational research interest: DNA repair inhibitors, pre-clinical and early clinical development of small molecule inhibitors
Technology/equipment available within the centre
Magnetic resonance imaging and spectroscopy (MRI/S)
Positron emission tomography (PET) technology
GCLP compliant pharmacology and pharmacodynamic assessment laboratories
Other Facilities:
Dedicated cancer research scientific institute (Northern Institute for Cancer Research in the Paul O'Gorman Building)
Dedicated academic clinical trials unit in custom-built cancer centre for performing early clinical work
Sample collection
Tissue Banking: in-house HTA-compliant tumour bank, Northern Gynaecological cancer network tumour bank, other national banks for specific projects when required.
Centre contact responsible for sample collection: Melanie Griffin (email: m.j.griffin@ncl.ac.uk)
ECMC funding provides infrastructure support for early phase and translational research.  From the ECMC Newcastle portfolio, the following trials have been carried out.
Trial activity between 2012-2015: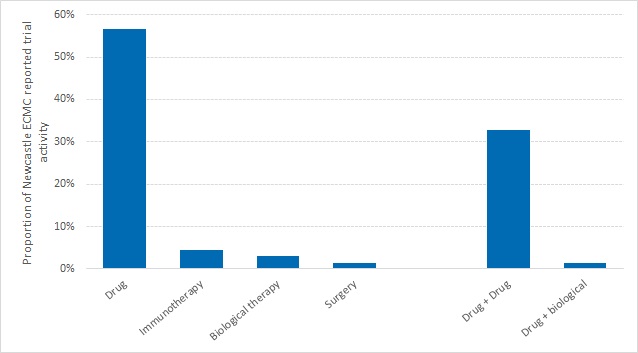 Trial by disease type between 2012-2015: