London - University College London
Treatment Modalities
Small Molecules
Biologics
Immunotherapy
Gene therapy
Radioimmunotherapy
Therapeutic vaccines
Facilities/Translational Research
Phase 1 population
Solid tumours and haematological malignancy in adults and children
Mechanisms studied
Genetic variation in leukaemia
Gene expression, microarrays
Immunohistochemistry, tissue microarrays
Phosphor-imaging for target and therapeutic location on tumours and normal tissue biopsies
Pharmacogenomics
Pharmacokinetics by HPLC for various drugs
DNA strand breaks, cross-linking and repair
Tumour localisation of therapeutics by SPECT with dosimetry
FDG-PET for tumour response
DCE-MRI for tumour blood flow and perfusion
CT perfusion
Electron Scattering Spectroscopy
Cellular and humoral immune responses
First-in-Man studies
Yes
Centre specific translational research interest
Broad range of interests in small molecules, protein, physical and cellular therapies and mechanisms related to them.
Multi-centre Phase 1 studies
Yes
Technology/equipment available within the centre
Affymetrix GeneChip Microarray System
Hamilton Microlab STAR with SWAP arm
Kratos Analytical AXIMA CFR Mass Spectrometer
Leica TCS SP Confocal Microscope
Electron Microscopy
Leitz Digital Fluorescence Microscopy
Advanced ChemTech 396 Peptide Synthesiser
Beckmann Coulter CEQ 8000 DNA Sequencers
Becton Dickinson FACSCalibur
Cytomation Mo-Flo Cell Sorte
AKTA FPLC Systems
Shimadzu and Gilson analytical and Gilson preparative HPLCs
qPCR ABI Prism 7700
PDT and Laser therapy
Elastic scattering spectroscopy
SPECT Imaging
64 slice PET/CT
16 slice PET/CT
FDG PET
CT Perfusion
82Rb Perfusion
Radionuclide Therapy Programme
Large Radio pharmacy
Proteomics by Mass Spectroscopy
Proteomics by 2D gel electrophoreses
Gene Expression Array
Tissue Microarray
GMP approved recombinant protein production facility
IMP-licensed radio-labelling facility

CellSearch

DepArray

Flowcytometry

MRI PET
Tissue Banking Activity
Adenocarcinoma
Neuroendocrine tissue
ECMC funding provides infrastructure support for early phase and translational research.  From the ECMC London UCL portfolio, the following trials have been carried out.
Trial activity between 2012-2015: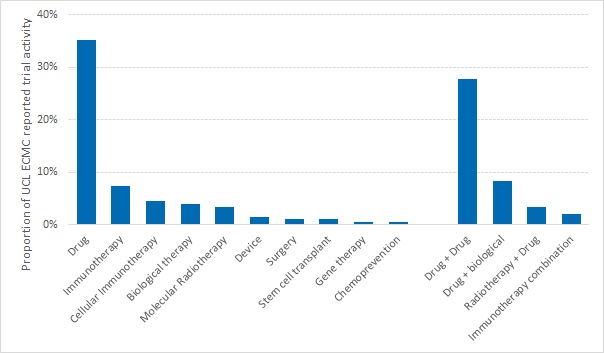 Trial by disease type between 2012-2015: