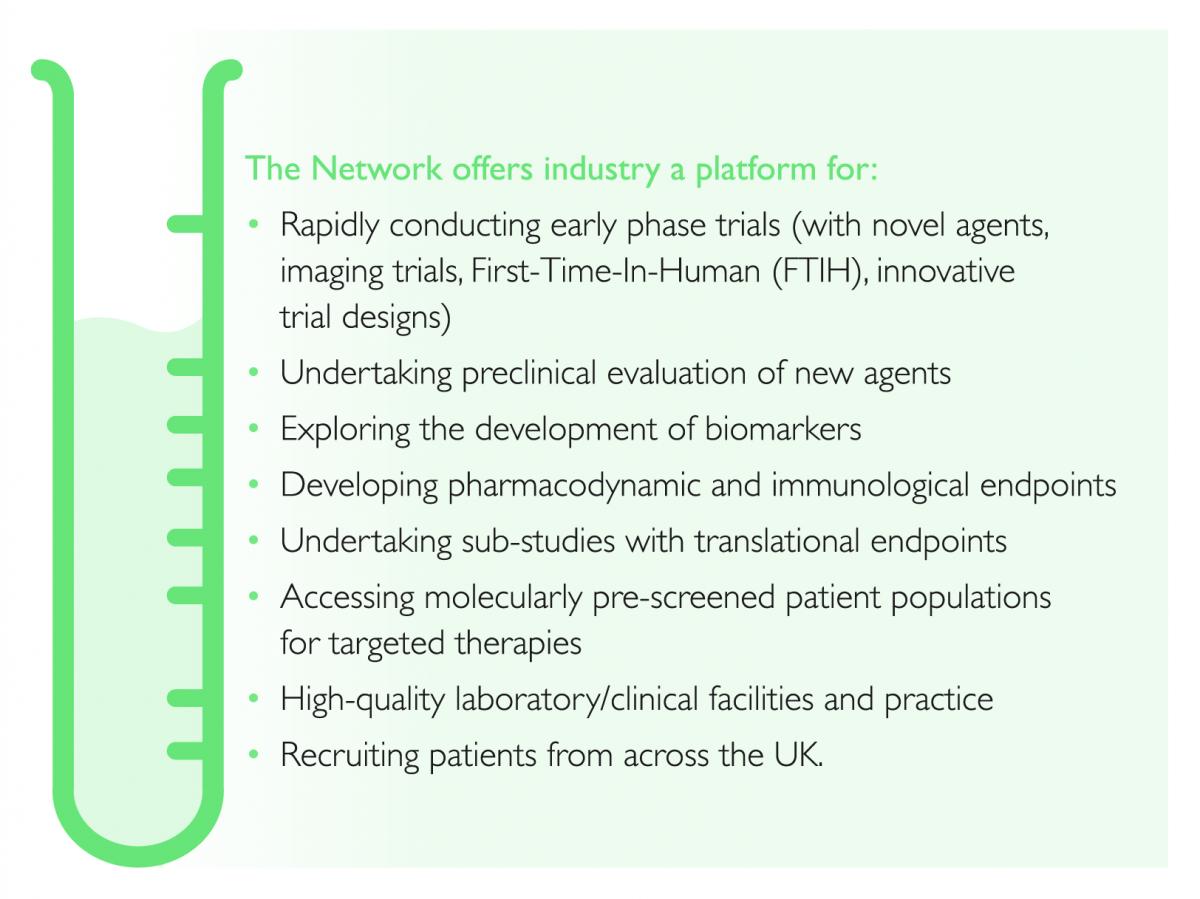 The ECMCs play a leading role in speeding up the process of cancer treatment development and the search for prognostic, predictive and pharmacological cancer biomarkers that help move towards personal treatment.
In 2014/15, over 153 companies conducted trials through the ECMC Network, and of the early phase trials supported by the ECMC initiative, near 60% are funded and/or sponsored by the pharmaceutical industry.  ECMC locations have forged multiple new links with industry during the year: in 2014/15 the ECMC Network conducted trials with 156 different companies, not including partnerships that have been created around technologies and biomarkers. 
ECMC researchers work with industry in a number of ways:
involvement in the very early stages of development of a drug and work alongside commercial partners to help them develop the most informative trials for a particular agent

help to secure access to the necessary resources and patients to undertake a trial (if a company already has a well-developed protocol)

through the

ECMC Trial Harmonisation Programme

(ETHP) - a newly developed assessment processes that allows for the streamlined delivery of the ground-breaking work being carried out across multi-site trials.
The ECMCs are also running the trials of Combinations Alliance, a partnership between the Cancer Research UK Centre for Drug Development, the ECMC, and pharmaceutical collaborators.  The Alliance allows for industry engagement through increasing the number of early phase clinical trials investigating novel drugs in combination with other novel drugs, chemotherapy, and/or radiotherapy among people in the UK with cancer.
Existing ECMC-Industry Partnerships:
| | | |
| --- | --- | --- |
| ECMC | PARTNER | DETAIL |
| Barts & Brighton | Exelixis, Astellas | ATLANTIS is a personalised therapy study in bladder cancer.  They will run the translational oncology biomarker part of the study supported by a grant of £550,000 |
| Belfast | Almac | This long-term partnership has created an integrated ALMAC/Queens University Belfast Drug Discovery Unit.  Wtih additional support from Invest Northern Ireland, the total value of the partnership is £5.5m |
| Leciester | Synta Pharmaceuticals | The Leicester ECMC will be conducting cfDNA and genome wide copy number variation analysis to support the Galaxy trial |
| London - Kings College | Northwest Biotech/ Cognate | This partnership is aiding the GMP production of tumour lystate-pulsed dendritic cells for a Phase III vaccine trials for glioblastoma |
| London - Imperial | AZ Pharma, Roche Diagnostics | This funds the evaluation of cfDNA to diagnose EGFR mutant lung cancer in patients who are either unfit for or have declined biopsy but are willing to swallow tablets (gefitinib) for liquid biopsy diangosed EGFR mutant positive lung cancer |
| London - UCL | Gilupi | This collaboration will to develop the CellCollector, a device for increasing the yield of circulating tumour cells by sampling the circulating blood volume.  Gilupi have provided 1000 devices at no cost to UCL as part of the development partnership (total value of £350,000).  Working on circulating cells in neuroendocrine tumours (NETs), UCL are collabroating on a clinical trial with IPSEN which will explore the role of CTCs as response markers in patients with functional mid-gut NETs following therapy with somatostatin analgues. The CTC analysis will be undertaken at the UCL GCLP lab |
| Manchester | Silicon Biosystems | This £700,000 partnership involves DEPArray technology to isolate and molecularly profile individual circulating tumour cells to explore CTC genomic heterogeneity and drug resistance signatures |
| Sheffield | Argenta | Colleagues from the departments of Chemistry, Dentistry, and Oncology are working tp carry out preclinical work on a class of novel microtubule agents, which have been developed in Sheffield |
| Southampton | Huntington Life Sciences | The development of assays to predict cytokine storm in the development of novel immunostimulatory antibodies.  As these therapies becomes more prevalent, predicting this potentially deadly side-effect is of vital importance |
| Southampton | Wessex Investigational Sciences Hub Laboratory | Southampton ECMC facility leverages additional investment in translational medicine and moved to a purpose built clinical trials evaluation laboratory that incorporates immune monitoring, nutritional endpoints, and NGS/informatics capacity |
The ECMC is extremely good, very helpful, initial kick off introductions have gone well, very impressive and responsive