COSMIC-19, COVID-19 and cancer research at Manchester
Below are two examples of work being done in Manchester to support the COVID effort.
COSMIC-19: COntinuous Signs Monitoring In COVID-19 patients open in Manchester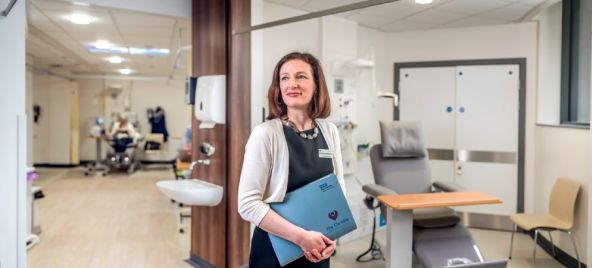 The Christie-sponsored study COSMIC-19 (COntinuous Signs Monitoring In Covid-19 patients), led by Prof Fiona Thistlethwaite is open to recruitment at The Christie and Manchester University NHS Foundation Trust (MFT). The first patient was recruited in July. The trial is funded by The Christie Charity and Innovate UK; and is a collaboration between The Christie, MFT and two commercial partners partners (Aptus Ltd who are a CRO, and Zenzium, who are a machine learning/AI company).
This pilot study will trial innovative wireless monitoring technology for patients with COVID-19. The aim is to determine if machine learning algorithms can help identify patients who are deteriorating in advance, and predict those who will need to go to intensive care.
COVID-19 and cancer research in Manchester
One of the biggest challenges facing cancer researchers was how to conduct clinical trials during the global pandemic in a safe and productive manner. Patients on these trials are thought to be among the most vulnerable and at risk of developing serious COVID-19 symptoms, requiring a reimagining of how clinical services are planned, developed and delivered. As a way to maintain the activity of cancer services, in early April, The Christie became the North-West Cancer Hub, designated as a COVID-free space that prioritised resuming treatment, screening and other essential activities. While initial set up was challenging, involving adopting new virtual and digital processes and procedures, in May, clinical trials activities recommenced. Multiple clinical trials investigating how COVID-19 affects cancer patients are now active or in the preparation stage at The Christie and other NHS trusts across Manchester that build upon the skills, expertise, and leadership of our experimental and early phase clinical trials team.