ECMC Paediatric Network:
The ECMC Paediatric Network brings together clinicians and translational scientists to run early phase clinical trials in children and young people with cancer. Formed of 11 paediatric phase I/II centres, the network functions as a single virtual centre in order to improve patient recruitment and expand geographical access to novel anticancer agents.
The Network works alongside two national paediatric biobanks, and the majority of trials are run by a specialised Cancer Research UK Clinical Trials Unit (CRCTU) in Birmingham.
If you would like to learn more, please get in touch with Tara McKay, our Paediatric Network Manager: tara.mckay@cancer.org.uk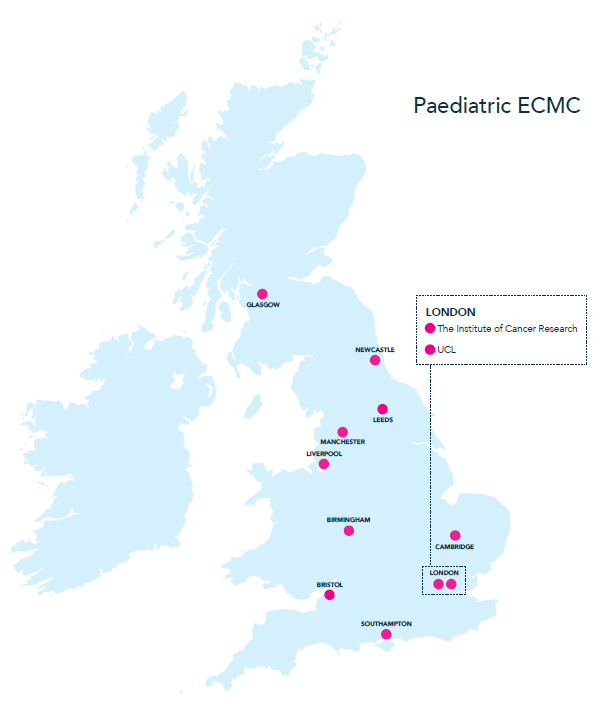 ECMC Paediatric Highlights:
Improved referral and recruitment of patients across the Network for three first-in-child studies, with embedded biomarker analysis, open in limited numbers of Centres globally.
The work of the pharmacology group in the
Newcastle Paediatric ECMC
on patient samples from across the Network has demonstrated sub-optimal dosing of significant numbers of patients with 13-
cis
reinoic acid in the current European high-risk neuroblastoma and identified dose changes to maximise patient exposure to this agent. These findings have resulted in changes to 13-
cis
retinoic acid dose regimens across Europe and have been reported in the
European Journal of Cancer
.
The Phase 1/2 study of Src/Abl tyrosine kinase inhibitor dasatinib in children and adolescents with relapsed or refractory leukaemia progressed to a Phase 2 study of dasatinib in children and adolescents with Ph+ leaukaemia with resistance or intolerance to imatinib.
An important example of how the Paediatric Network is benefiting patients can be seen through the linking of the Newcastle and
Glasgow Paediatric ECMCs
, which has led to Newcastle becoming part of the Scottish leukaemia multidisciplinary team. This has improved the discussion of options for relapsed patients in Scotland, and allowed them to access novel therapeutic approached in Newcastle.
We now have a strong, functional network for early phase clinical trial activity in the UK. We have worked hard to make the UK an attractive site for early phase clinical trials in childhood cancer, and the success of this is borne out by the excellent relationships that have been established with a number of drug companies
Dr Guy Makin, Paediatric Network Lead