Spotlight: EC Trial Finder
EC Trial Finder - ECMC network's patient matching database is now available to the network
Experimental Cancer Trial Finder (EC Trial Finder) was successfully launched to the first limited user group on 15th November 2018 and was made available for the rest of the ECMC network in December 2018.
What is EC Trial Finder?
EC Trial Finder is a new trial matching database to support patient matching in the ECMC network.
It has been built together with the network and designed to make it easier for clinical staff to quickly match patients to early-phase clinical cancer trials across the ECMC network using customised search criteria (i.e. age, location, molecular stratification). Search results will include recruitment site contact details, so you can quickly determine whether your patients are suitable and whether there is a slot available for them, and data is updated monthly to keep the database accurate.
The EC Trial Finder is now being used and initially tested by the Early Access Group (including Leads, EC Trial Finder working group and coordinators) and we're now ready to share it with a select group of users (Closed Alpha Group).
Alpha - you're invited
EC Trial Finder is currently an alpha (early pilot version) software and you are invited to be part of the alpha user community -getting you early access to the tool and being able to influence the direction of its development. This early access is provided exclusively to the ECMC network.
Aim: Build the best possible product together
·         Help improve the product as much as possible during this stage by participating and giving feedback
This is intended to be a pilot phase during which the core concept of the EC Trial Finder will be tested for viability, usability and usefulness. You'll be able feedback directly through the tool while you use it, and we'll give you some additional tips and guidance later on. Meanwhile we hope you enjoy your early access to the tool and it starts to benefit you and patients. 
What the benefits will be
EC Trial Finder provides the network with a single source of actively recruiting clinical trials within the ECMC Network with smart-function search and monthly data updates.
The immediate benefits of the EC Trial Finder are expected to be:
·         Improved patient access to trials
·         Increased opportunity for patient matching and referrals within the ECMC Network including for trials that can be hard to recruit to,
·          increased opportunity to enhance patient recruitment volumes and timelines, and
·         further increase collaboration within the network.
How can I sign up?
You should have been contacted by your local EC Trial Finder coordinator with a link to online user registration form. If you have not heard from them, please get in contact with the ECMC Programme Office at ECTrialFinder@cancer.org.uk.  Please include your name, role and your ECMC Centre.
Finally…
To make sure the things that are important to you are working and are included in the EC Trial Finder -join the Alpha User Community, use the tool and give direction. Your feedback will improve the experience for users across the network.
If you would like to know more visit ECTF website, and for any questions, comments or concerns contact us at ECTrialFinder@cancer.org.uk
EC Trial Finder is delivered by the ECMC Programme Office in collaboration with the network and Cancer Research UK.
Siru Virtanen, EC Trial Finder Business Owner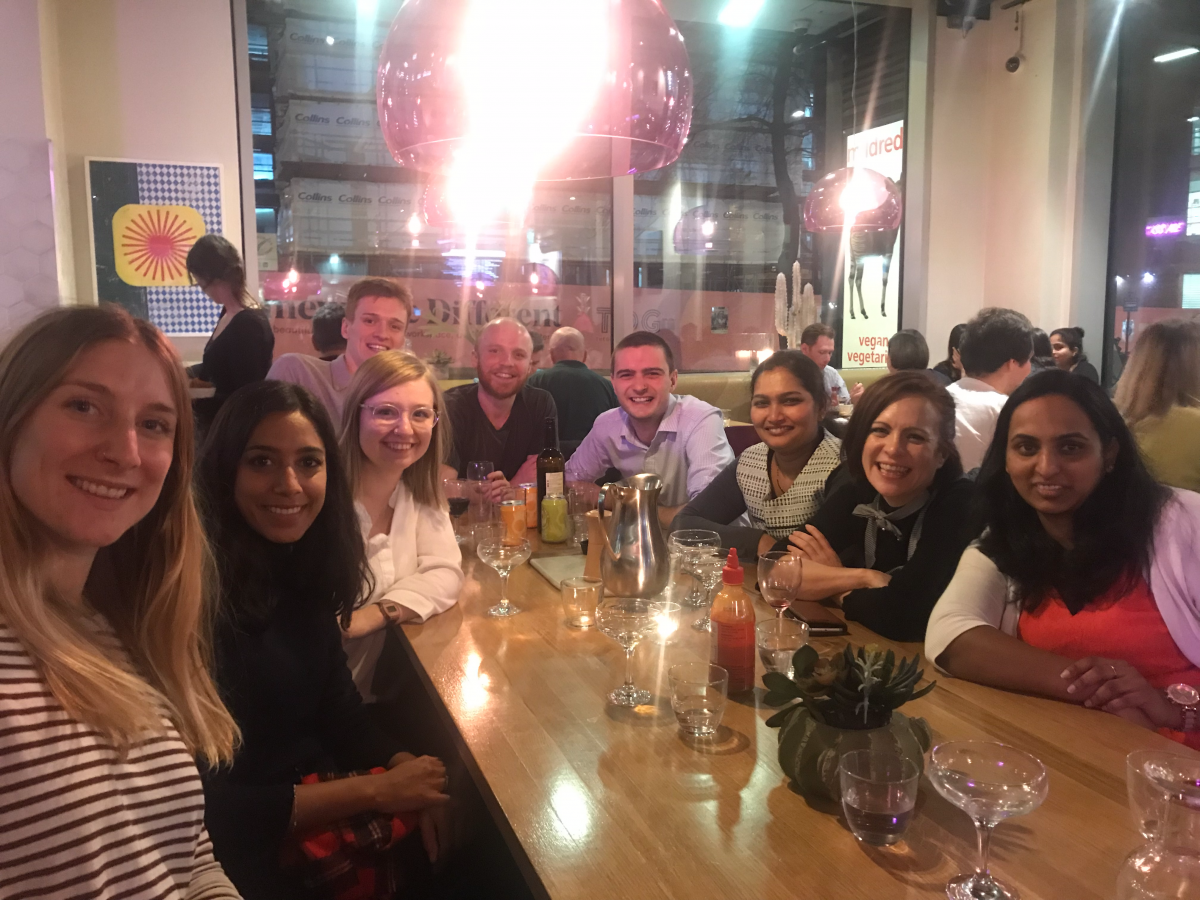 The EC Trial Finder team celebrating the first release day on November 15th after months and months of user requirements gathering, numerous user testing and iterations, trial data collection & cleaning and software development.
From right: Developer (Swetha Podduturi), Business Owner (Siru Virtanen), Tester (Gayatri Aritakula), Tech Project Manager (Matthew Gladwell), Prototype Producer (Graham Goodings), Business Analyst (Joshua Carr),  Digital Specialist (Connie van Zanten) , Prototype Producer (Kryshna Popat) and User Experience Designer (Josie Downey) (missing the Sponsor Ilaria Mirabile, Systems Manager Jackie Pascal and Tech Solutions Architect Mark Juniper and the large CRUK community and ECMC PO who has supported the project)
Testimonials
The EC Trial Finder has received an enthusiastic response from the network and the academic and commercial trial sponsors. Here are some of the testimonials from early users and testers:
"Easy to use and navigate..."  
"...I think centers will find it really helpful​."
"The website looks fantastic and the details of the trials I've looked at all seem accurate. Great job!"